In the current digital age, computers are very complex, possessing numerous intricate components. In order to keep abreast with emerging software trends, there is a growing need for developers to understand what goes on 'under the hood' of a digital system.
With the Visual Architecture plugin a new outlook into the representation of low-level programming can now be explored, as it enables the virtual creation of simple digital computer components. Due to the extensive nature of Eclipse plugins, it is hoped that future implementations of this tool will be used to demonstrate more complex systems.
The Visual Architecture plugin solution is a framework in Eclipse that allows a teacher to create a diagrammatic representation of some component architecture using 'drag-and-drop' graphical features. Once the architecture has been defined the students can then use this design to develop their own assembly code implementations. The student implementations are developed using the normal Eclipse IDE, powered by Xtext.
This solution also provides a Debugging feature that enables the visualization of developed programs. It uses a 'step-into' and 'step-over' protocol to animate execution sequences in the architecture, giving the student visual feedback for each step executed. 
Feature Highlights:
Diagram editor with compartments and custom computer architecture graphics
Rich editors for coding with code completion for assembly and diagram-to-command mapping
Interactive debugger that prints out register and memory values after each step
All of the information that interests you can be found in various files in the project file repository ("Documents"). Files that might be of interest are the Program Documentation, videos showcasing all the nice features in action and the plug-ins that can be imported to your very own Eclipse IDE to try it out yourselves.
Screencasts
Here you can see the main functionality of our application in several videos.
Creating a diagram and architecture-code mapping (the teacher), then coding and debugging assembly files (the student):
Generating microcode from an assembly file (created using the Acceleo framework):
Screenshots:
First the teacher creates a diagram...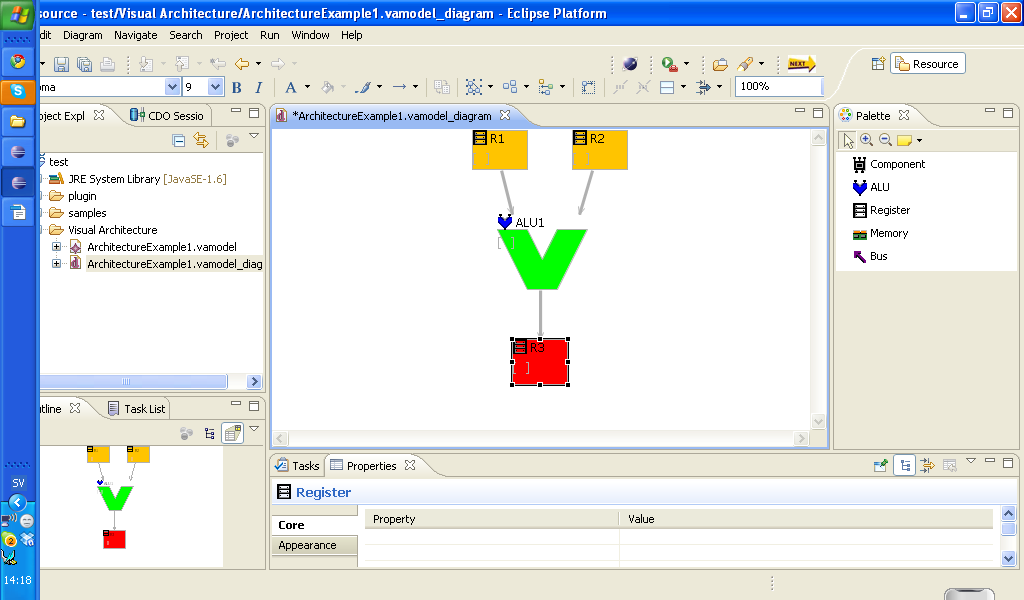 ... and a mapping file.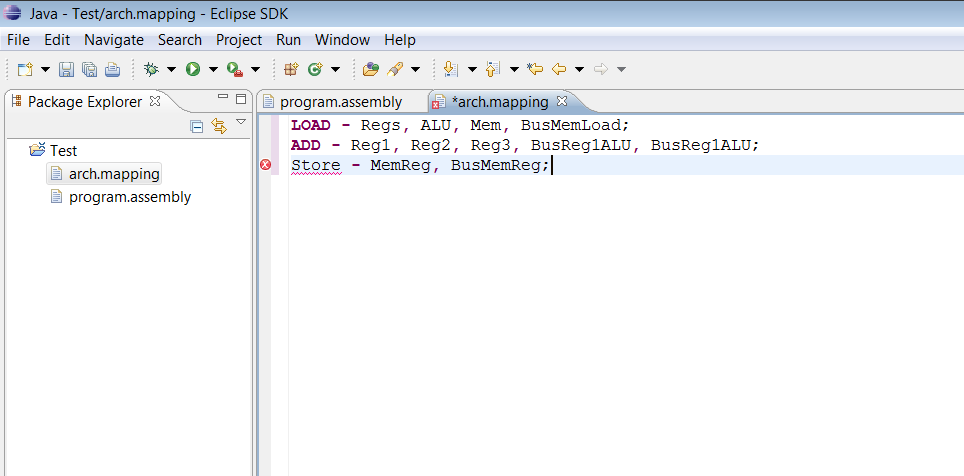 Then the student writes his assembly program...
... and debugs it against the architecture his teacher has prepared for him.
 VISUAL ARCHITECTURE PROJECT TEAM
---
 

 

Sarah Njeri Kuria


Project role(s):                                  
Personal info: 29 years old, Kenyan with Ugandan roots, studying the one year Masters program in Software Engineering.
Skills & Interests: mainly teaching.
Hobbies: playing piano, swimming, art, singing
Email: ska10004@student.mdh.se
Other contacts: Facebook: Njeri Sanyu


 

Peter van Heck
Project role(s):                                  
Personal info: i'm from the Netherlands. I'm 21 years old and born in a small village nearly in the middle of the Netherlands. Now i'm studying Computer-Science at the University of Technology in Eindhoven.
Skills & Interests: I have no working experiences, only 2 years of bachelor-studie with some groupwork in there.
Hobbies: I'm a sports-climber and a alpinist. Once a week i used to train a group of kids in Athletics. I did it myself before, But i quit becouse of an injury. Resently i've started running though.
In some spare time i play the guitar, see a movie or serie and socialize with friends of mine.
I had a job in a supermarked, but i quit that for my study here in Sweden.
Email: PetervanHeck+TUE@gmail.com
Other contacts: PetervanHeck@hotmail.com (mail+chat)
PetervanHeck+TUE@gmail.com (mail)
Skypename: peter.vanheck
Facebook: facebook.com/petervanheck


 

Prashanta Paudel  
Project role(s): Swedish Team Leader ,Configuration Manager,Risk Analyst                        
Personal info: I am from Nepal and I am 25. I am currently studying Masters in Software Enginnering.
Skills & Interests: Data Centric Development(Openedge Progress 4GL),Team Co-ordination,Analysis and Software Releases
Hobbies: Football, Studying Astronomy,Literature(Currently writing a Novel),Medicine,Forsenic Science
Email: ppl10002@student.mdh.se
Other contacts: prashanta.paudel 
prapaudel@hotmail.com
facebook/prasan.paudel


 

Ilirjana Ame
Project role(s):                                  
Personal info: I was born in Zagreb, Croatia (1987-10-23), and also living here all my life.
I'm studyng Software Engineering and Information Systems at Faculty of Electrical Engineering and Computing, University of Zagreb.
Skills & Interests: Programming in C#, C, SQL and UML, but also beginner programming in Java, XML, HTML, Prolog, Verilog, SMV...
Hobbies: Photography, sport (especially yoga and aerobic), dancing, cooking, music, movies, blogging...
Email: ilirjana.ameETfer.hr
Other contacts: Skype: IlirjanaSkyp, username: Ilirjana


 


Vedran Palajić
Project role(s):                                  
Personal info: I am 23 years old student from Croatia. I originate from small village of Druškovec near Hum na Sutli and live and study in capitol city of Croatia, Zagreb. My college is FER, Faculty of Electrical Engineering and Computing, for fifth year now. I have a title of Bachelor of Computer Engineering and study to become Master. My area of expertise is Information Technology.
Skills & Interests: Knowledge of programing languages like C,C#, Java. Some experience with XML, XML Schema, HTML, PHP, Haskell, Prolog, Javaskript. Experience of working with Microsoft Visual Studio, Eclipse and NetBeans enviroments. Knowledge of modeling a database extended with education about how a generic database system could or often operates. Experience with Oracle, Informix and PostgreSQL. Participated in making of numerous mostly simple desktop and web aplications as the part of the study. Have experiences with working in team and did lead one at some point. My interest is to increase my knowledge and competence in the area of Computer Engineering, get a job in that area, specialising at something first, and maybe become a leader of a small software developing team one day.
Hobbies: Bicycling, reading books, iceskating, playing chess.
Email: vedran.palajicETfer.hr
Other contacts: Skype: vedran.palajic
Live messenger: vedran.palajicEThotmail.co.uk





Dražen Lučanin
Project role(s):

Croatian team leader

requirements gatherer, coder, unit tester, coder, functional tester, system architect, report developer


Personal info: 

Dražen is a fourth year student of computer science at the University of Zagreb. His main interests are program engineering and topics in the field of computer science, such as theoretical study of algorithms and artificial intelligence. During his studies and in his free time he was involved in creating many different program sollutions - from compilers to video-conferencing clients, using different implementation technologies. He is currently studying advanced user interfaces and graphical programming.


Skills & Interests:

Programming languages: Python, C, C++, C#, Objective-C, Java


Hobbies: 

Playing electric guitar, drawing (http://www.epska.org/), animation (http://www.youtube.com/user/kermit664), bicycle riding, hiking, ...


Email:

drazen.lucanin at gmail.com / kermit666 at gmail.com


Other contacts:   

Skype: Dražen Lučanin